Serve But In Different Way
📂 Uploader
✅ Verified Member
Member
Downloaded

58.3 GB
Uploaded

172.7 GB
Ratio

2.96
Seedbonus

4,548
Upload Count

12

(13)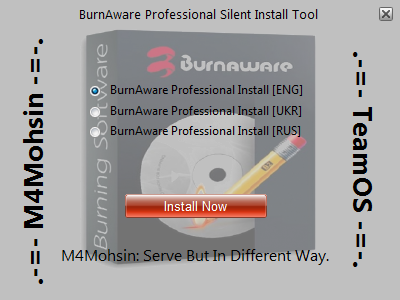 BurnAware
- is a simple and convenient program for burning and copying discs. Most modern bagels are supported - from CD to Blu-ray. Main functions: recording data discs, bootable discs, copying, creating audio and video discs, audio grabber. In addition, BurnAware Professional can work with images - create, copy and burn. It is possible to check the disk for errors and recover data from damaged media. Compact and quick replacement of Nero, as well as other programs in this area.
Description:
This Program Helps you to install BurnAware Professional Version in three languages Silently that all are registered version. I recommend you to install BurnAware Pro with this tool but your choice is better for you. This tools is created for TeamOS by me (M4Mohsin). Say Thanks If You Like This, that can help me to make more and share for you at this platform.
Version Included:
BurnAware 13.4 Professional (New)
Virus Total Results:
You must be registered for see links
If You Like This Say Thanks In Comment.
How To Use:


- Just click on radiobutton that you want to install
- click on install now and wait
- Done
Download Link:
You must be registered for see links