⚡OS Master
📂 Uploader
Windows Modifier
✅ Verified Member
Downloaded

57.6 GB
Uploaded

16 TB
Ratio

285.07
Seedbonus

329,002
Upload Count

83

(95)
Review
TVTools tool AlterID is a lightweight tool whose primary purpose is to reset the ID of TeamViewer software. TVTools AlterID has 3 ID reset options:
Trial mode (after seven days trial license with full features will expire)

After the trial period the user will need to renew the trial license - reset AlterID, restart TeamViewer to register with the new ID trial license;

Free mode (application has the basic features and includes advertisements)

Reset ID, restart TeamViewer, register new ID with the free license;

Wipe mode - Returns to the original ID received when starting TeamViewer for the first time.
How to use it:
1. TeamViewer must be running or move "AlterID.exe" in the TeamViewer local directory;
2. Run the "AlterID.exe" and browse to the TeamViewer's local folder;
3. Enjoy!
NOTE:
TVTools AlterID will not work after applying patches to change the way to get UUID (e.g. patch from vcart). If the user decides to use 5.x Launcher after applying AlterID Resetter, start AlterID in Delete mode. AlterID's is not dependent on TeamViewer version so that the user can update TeamViewer to the current build at any time.
Screenshots: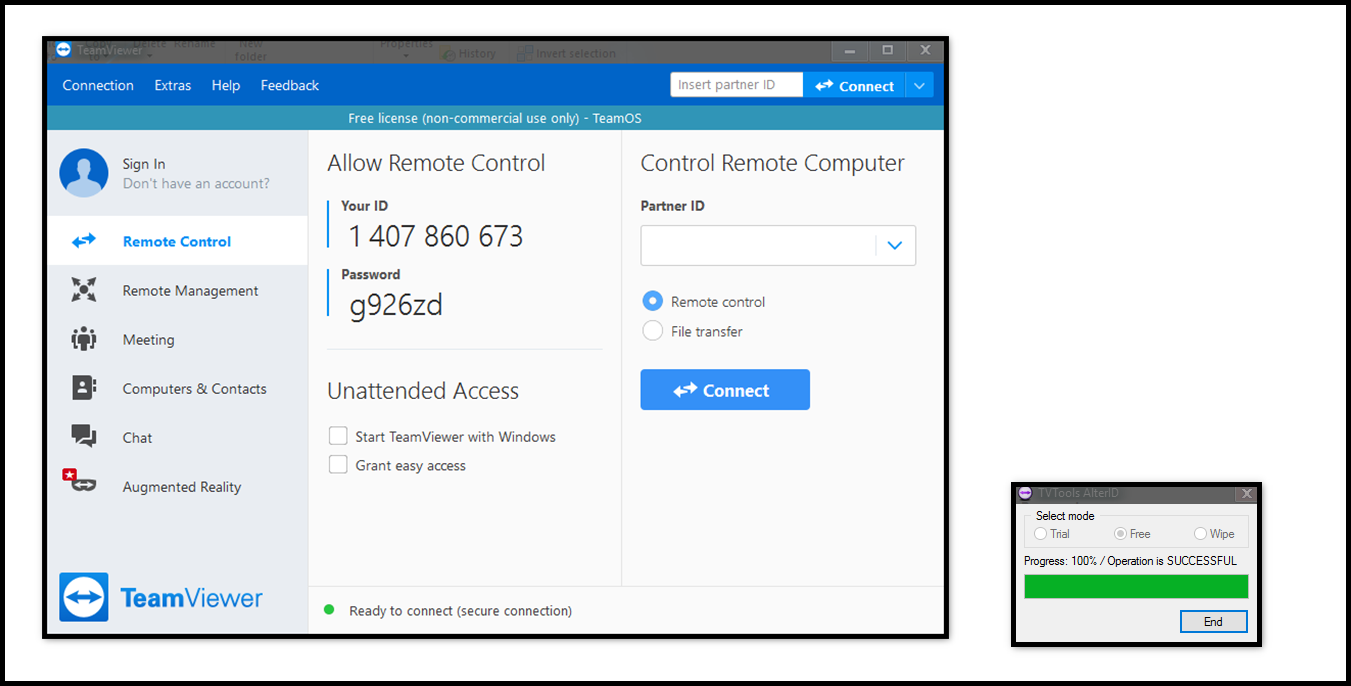 Virus free! 100% clean!
​
File: AlterID.exe
You must be registered for see links
03/68
MD5: 290D2267039A01322B590592CBF0C13C
SHA1: 188996BFB808374F09A6F5A087D47F4FC450D668
SHA256: 16FDF499C06543DEDAB6F17279FDF1FABB29779F54CB1F4CC2E61FDB6961ED33
Kind regards,
@Mirkec
in collaboration with TeamOS
ALTERNATIVE:
You must be registered for see links
Download links (Size: 391.24 KB):
You must be registered for see links
You must be registered for see links
You must be registered for see links
You must be registered for see links
Last edited: